Breeding Labrador
Rimini (RN)

The history of the Marilain Labradors kennel began in 2004 when AILEEN (the first mare) was born from a litter with a friend (Marinella Turchini) who had a beautiful female from Alberto Lelli Mammi's Crownwood kennel (let's say pedigree). Aileen's mother was beautiful Molly with an exceptional pedigree of English dogs that made the history of the Labrador. For Molly we had chosen a male named Foxrush Davy Jones (from Judith Charlton's historic Foxrush kennel) owned by the breeder and friend Silvio Bertero (Curtis Canava kennel).
My favorite since the early days was the bitch who later became Aileen: from here my breeding adventure began.
In my projects I have always had at heart and I have kept faith in having beautiful but healthy and good-natured dogs, the true Labrador character. Slightly improving the bone and front angles and improving the coat was the goal of my first matings. I want the families, which I carefully choose, to have a happy, cheerful, non-aggressive, therefore docile and HEALTHY dog, then if possible...even BEAUTIFUL!
Explore my site where you can find all the information you need to make the decision to TAKE a labrador with conviction and awareness and where you can understand how I breed and raise my Labrador puppies.
ME and AILEEN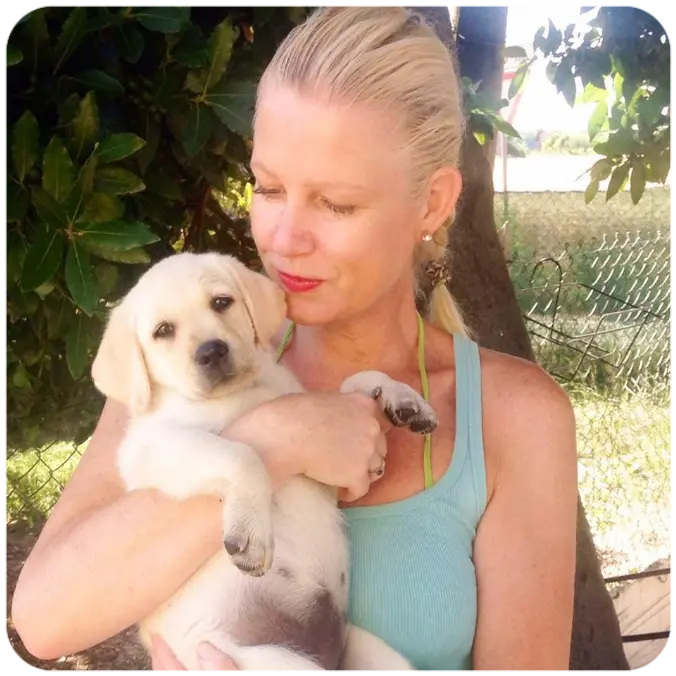 Marilain Labradors policies

We breed our dogs with love, passion and professionalism, offering you all the useful information to be able to grow and manage them in the best possible way. Since they are born, our puppies grow up exclusively on our property, pampered by our hands and followed by the referring veterinarian. Our priority is the well-being of the puppies: each specimen grows up learning from the first weeks to socialize and develop a perfect balance in the relationship with other dogs and with humans, thus allowing easier integration into the future family. We are very careful in the selection of future owners and we make sure that the context in which they will live is suitable for the puppies to evaluate the availability and commitment necessary to be able to raise them at their best. The puppies can be adopted only after the 10th week of life.
MARILAIN LABRADORS policies
1.
We do not give puppies (cost of a purebred puppy with the credentials)
2. We do not sell puppies to dog shops or dog dealers
3. Each of our puppies is assigned by us to new families with:
Antiparasitic prophylaxis (dewormers and pesticides)
Identification microchip with dog registry registration
Declaration of transfer to the new owner
Vaccination cycle: the puppy will already be able to go out when he is brought home
Health card with antiparasitic treatments and vaccinations endorsed by the veterinary surgeon
Certificate of good health of each individual puppy signed by the referring veterinary surgeon
Copies of parents' and grandparents' ENCI/FCI pedigrees
Copy of official checks on dysplasia and genetic tests "Labrador Laboklin package"
Registration in the ROI book of origins to obtain the ENCI/FCI pedigree (the only document certifying its belonging to the breed standard and genealogy up to the 4th generation)
Ongoing behavioral and dietary advice throughout the puppy's growth path and for the DOG'S ENTIRE LIFE
4. We do not ship puppies!
5. We are very careful in the selection of future owners and we make sure that the context in which they will live is suitable for the puppies in order to evaluate the availability and commitment necessary to be able to raise them at their best
6. If, unfortunately, we do not consider a person suitable for this breed, we reserve the right not to entrust one of our puppies to hermo una persona idonea a questa razza ci riserviamo la scelta di non affidarle uno dei nostri cuccioli